Skip Navigation
Website Accessibility
Sheep Thrills now offers private knitting or crochet lessons


IN FRENCH

on Saturdays and Sundays!!
Call the shop at 954-742-1908 to schedule
Sheep Thrills Annual Gift Certificate Sale
Wednesday, December 6th - Tuesday, December 12th SHEEP THRILLS is offering GIFT CERTIFICATES in any amount for a 10% discount. Gift Certificates may be purchased in the shop or online.
(Online customers: charge the full price of the Gift Certificate(s) and SHEEP THRILLS will issue a credit back to your credit card
for the discount within 1-2 business days

Purchase a SHEEP THRILLS' GIFT CARD for the following amount
---
Purchase a Purchase a SHEEP THRILLS' GIFT CARD for the following amount:
Amount: $
Emre is coming! On December 16th, from noon to 3, @urthyarns will be in our shop for a trunk show.
New patterns, new yarns, and all the old favorites!
Hope to see you here!
SHEEP THRILLS is the largest and best yarn store in Florida. It is the go-to destination for locals, snow birds and tourists who enjoy knitting, crocheting, weaving, needle felting, and spinning. If you can't visit us in person, be sure to shop in our web store.


We are located in Lauderhill, Florida in central Broward County. We are midway between Boca Raton in Palm Beach County and Aventura in Miami-Dade County. We are a short drive to the beaches of Fort Lauderdale and the mega Sawgrass Mills Mall.
THE

CIRCULO

STORE @ SHEEP THRILLS

SHEEP THRILLS, as Circulo's Flagship Store for North America, has opened a one-of-a-kind "Circulo Store in SHEEP THRILLS". It stocks the largest selection of Circulo yarns and kits, in every color. Our inventory is deep, so you will always be able to find what you need. Our staff is extremely knowledgeable and will be able to answer your questions, assist you with your selections and help you with your projects.


Although Circulo yarns seldom go on sale, each month we feature a different, specially selected, Circulo yarn at a 10% discount. This month is different. As a special holiday gift, instead of one yarn at 10% off, SHEEP THRILLS is offering all of the listed yarns and kits at a 15% discount. These yarns and kits are scheduled to be discontinued sometime in the future, so act fast because when they're gone, they're gone:
YARNS: Duna, Amigurumi Maxi, Ame, Angora, Bamboo, Diamante Baby, Frise, Luar, Verbena, La Seda, Harmony, Hobby, Hobby Baby, Ternura
AMIGURUMI KITS: Baby Rattles, Ballerina Collection, Easter Collection 2022, Halloween 2022, Halloween 2023
CLICK HERE for Circulo Sale Yarns and Kits
Gift Registry

is fully operational. If used properly it will protect you from getting duplicate or unwanted gifts. CLICK HERE to set up your personalized gift registry so everyone will know what to get you for those special occasions or just because they think you're special. Should any items that you list on your registry be on sale at the time it is purchased you will get the benefit of the sale price. You can add items to or remove items from your personalized registry at anytime.
Special Services

If you need help with your skills, we are happy to have one of our expert knitters or crocheters spend a few minutes (up to 15) to show you how to do something or fix a mistake at no charge. However, if more time is required or you want to make sure you won't be interrupted, please schedule a convenient time for help or for a private lesson. The cost is $15 per half hour or any part thereof. Please call (954) 472-1908 to schedule your help session.


We also have master knitters, crocheters, weavers, embroiderers and seamstresses available to help you finish your projects - blocking, weaving the ends of garments, adding buttons, putting garment together, monogramming, quilting, embellishing or embroidering, etc. Call us at (954) 472-1908 to discuss your needs.

Private Knitting or Crochet Lessons - $30/hour
(Available in French on Saturday and Sunday)

Please call shop to schedule 954-742-1908
No need to reserve a seat. Join us for friendship, camaraderie and inspiration. Please keep in mind that staff will not be available private instruction. These sessions are for you to sit, stitch and socialize with friends. You can schedule private help sessions or classes by calling the shop at (954) 742-1908.
Make Something Amazing
Visit our showcase of projects to see what you can do with our beautiful yarns.

Click here for tons of inspiration!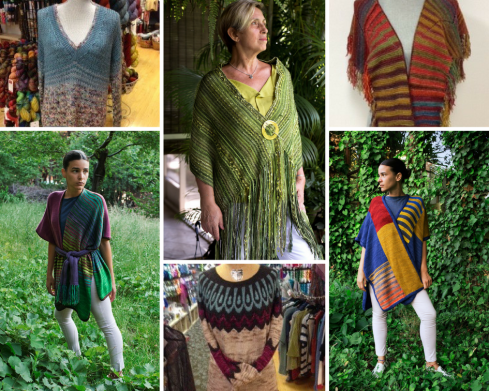 Normal Store Hours
Mon-Tues-Fri-Sat-Sun Noon to 5pm
Wed-Thurs Closed

On days when the shop is open, we will be happy to schedule one-on-one shopping by special appointment, before our normal opening from 10:30am - noon.

Shop on-line 24/7 (curb-side pick up available)