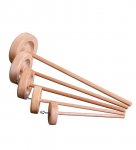 Deluxe Designer Canvas Bags from See Design
We're having a sale on these gorgeous tote bags. Carry your projects in style this summer with these made to travel totes in a variety of bold and bright colors—all at spectacular savings. All Donna Gorman's totes are made from 100% heavy weight cotton canvas, which is printed on both sides from contrasting hand painted designs a....
The Knitted Dollhouse by Sophia Minakais
Meet the author Sophia Minakais on March 17, from 4-8 pm for a book signing and demonstration. With its unique, one-of-a-kind design, The Knitted Dollhouse brings you a crafting project sure to thrill makers and recipients of every age. She will also be demonstrating the Modified Bickford Seam, which results in a flat, invisible vert....
Are You Ready to Knit Your First Sweater?
Are you thinking about knitting your first sweater? Sheep Thrills is here to help you learn everything you need to know to make that first big jump to knitting a sweater, including tips and recommended knitting patterns. Something is empowering about finishing a garment of your very own. Whether it's the time put in or watching all the....